Sorry for the lack of updates lately - I'm still in the process of moving to a new house! Updates will probably be slow for the next couple weeks as well, but rest assured that I'm getting plenty of work done anyway. Lately, I've been working on implementing the new spell system and it's coming along very well! There have been a few changes to the system since I posted about it before, so the next post will probably discuss the spell system in depth. We're still on track for an alpha (or even beta) release by the end of this year.
With that said, here are three new creature races that are coming to Siralim 2.
Seraphs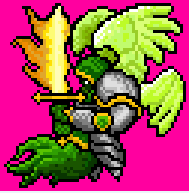 Unsurprisingly, Seraphs are a new race for the Life class. These creatures sacrifice their Mana when they attack, defend, and/or provoke in exchange for massive boosts to these commands. Here's what the Andolin Seraph's (pictured above) ability does:
Provoking reduces Mana by 70% if this creature has enough Mana. When this happens, send all enemies to the bottom of the Action Queue.
Valkyries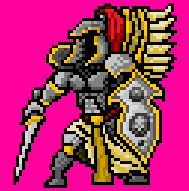 Valkyries focus on an "offensive defense" - that is, they punish attackers who deal damage to themselves and allies. These creatures are interesting because they aren't actual tanks, but can potentially turn their frail allies into tanks instead. I didn't really like the fact that there were only a handful of obvious tanks in Siralim 1, and you had to choose from a very rigid pool of creatures to serve as your party's tank. Thanks to the Valkyries, choosing a tank will be much more flexible than before.
Sins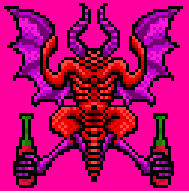 Sins are a new Death race which are modeled after the allegorical seven deadly sins. The creature pictured above is called the Luxuria Sin, which symbolizes "lust". Each Sin creature holds a different object that represents one of the seven deadly sins. Their abilities are among the most diverse in Siralim 2, each one doing something very different from their racial counterparts. These creatures are also very important to the game's storyline, and there are a lot of really fun in-game secrets related to the Sins as well.