Yet another short post because I'm still moving. It never ends.
Luckily, I have some of my favorite new creatures to share with you today!
Grimoires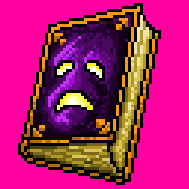 Grimoires are a new creature belonging to the Sorcery class. These creatures are interesting because their abilities grant them access to three unique spells that can't be found anywhere else in the game. There are 6 different Grimoires, and each one provides 3 different spells, so that's a total of 18 spells that are designed specifically for this creature race. The spells are designed to synergize with each other so that you can unleash devastating combos on your enemies.
Watchers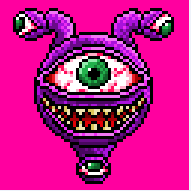 Watchers capitalize on having "more of something" than their enemies. You might be familiar with this concept from the Occultists in Siralim 1 - for example, a Watcher might deal additional damage equal to the amount of Intelligence it has greater than its target. Another Watcher might reduce incoming damage on its allies for each Sorcery creature you have greater than the enemy. I don't have the abilities completely designed for these creatures yet, but this is the general flavor that I'm aiming toward.
Gorgons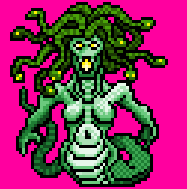 Gorgons capitalize on utilizing the Stun debuff to its fullest potential. One of the basic Gorgons has a chance to Stun enemies when they attack any of your creatures. Another Gorgon increases all damage dealt to stunned enemies.