While there are hundreds of brand new creatures from all-new races coming to Siralim 2, all the old creatures from Siralim 1 will make a return as well. Some races even have new creatures (such as the War Golem and Heretic Hunter). But the most exciting part about these creatures is that none of them will have the same abilities they had in Siralim 1. The remainder of these "Creature Races and Abilities" posts will discuss old creatures and what their abilities do. Let's start with three Life races.
Unicorns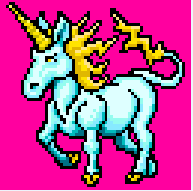 This is the Unicorn Thundercracker. In Siralim 2, Unicorns specialize in providing a useful effect for their allies after they attack, and the Unicorn Thundercracker is no exception to this rule. After this creature attacks, it has a high chance to move a randomly-selected ally straight to the top of the Action Queue, allowing them to take their turn immediately. Other Unicorns can heal or resurrect their allies, while some can provide a large boost to their allies' Attack and Intelligence after attacking. Unicorns have extremely powerful effects, mitigated only by the fact that the beneficiary is chosen at random.
Spirits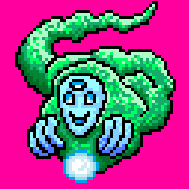 There won't be any new Spirits this time around, so we'll use the Clairvoyant Spirit as our example for this race. Spirits have abilities that activate when they or their allies are healed. The Clairvoyant Spirit's ability reads as follows: When your creatures are healed, a random enemy takes damage equal to the amount of Health recovered. This is an extremely versatile ability, especially for players who use a lot of Life creatures and spells. With this ability, you can even make your Mend buff also serve as a damage-over-time effect against your enemies.
Demigods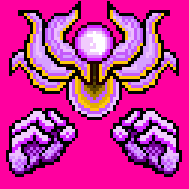 Demigods focus on manipulating the Health of their allies and enemies. They aren't direct damage dealers or healers, but still affect Health in a very different way. Here's what the Omnipotent Deity's (pictured above) ability does: Your creatures share a combined pool of Health but take 50% extra damage from attacks and spells. This means that your creatures will have a massive amount of Health to work with, and the only way for any one of your creatures to die is if they're all dead. But on the other hand, they're much more susceptible to effects that deal damage based on your creatures' Current Health. This is a powerful ability, but only if you utilize it properly and build your team to counteract its weaknesses.