Today we'll take a look at Forsaken (previously called Mutants), Golems, and Hounds!
Forsaken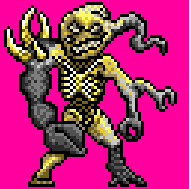 In Siralim 2, the Forsaken all specialize in starting battles with heightened power, but this power tapers off as the battle progresses. One Forsaken's ability reads "This creature starts battles with 75% extra Attack and Defense, but loses 25% Attack and Defense each turn". These abilities are particularly interesting because their downsides change the way you might consider your strategy as time goes on in each battle. In the case of our example, you might want to start battles by attacking, but in a few turns it might become more effective to start casting offensive spells instead since the creature's Attack will start to become pretty low.
Golems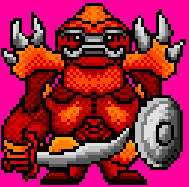 Pictured above is the War Golem - a brand new addition to the Golem race!
In Siralim 2, Golems do not have particularly "focused" abilities like other creatures. Instead, the way they're acquired is what sets them apart from all the others. There is no way to acquire a Golem through breeding. The only type of Golem that you can extract from is the Iron Golem. After you've summoned an Iron Golem, you can use it to extract a core from your enemies. Depending on what type of core you extract, the Iron Golem will permanently transform into a different Golem. For example, if your Iron Golem extracts a core from a Chaos creature, it will transform into a Magma Golem with modified stats and a different ability. Some Golems (like the Magma Golem) are easy to acquire, while others might require you to extract from a very specific creature.
Hounds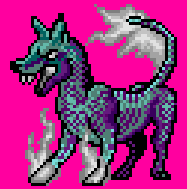 In Siralim 2, Hounds will be the tribal race for the Death class. These creatures mainly focus on lowering the stats of their enemies, and the amount decreased is based on the number of Hounds fighting in your party. But that's not all - the Hounds also have a special technique thanks to the Terror Hound's "Eye of the Thylacine" ability:
"Your Hounds all merge into a Thylacine that wields this creature's artifact. The Thylacine has all the innate abilities from the merged Hounds, 35% of the merged Hounds' stats, access to all their spells, and is immune to debuffs that prevent it from acting in any way."
Obviously, this ability is pretty complex. For this reason, Terror Hounds are inaccessible until a later part of the game. To further illustrate how this trait works, imagine the following example:
You have a Blood Hound, Horror Hound, Panic Hound, Hell Hound, Dread Hound, and a Terror Hound. The Terror Hound has the Eye of the Thylacine ability, so at the start of battle, all 6 of your Hounds combine into a new creature (Thylacine). This means you'll be controlling only one creature for the entire battle, but it will be ultra powerful because it has so many abilities, tons of extra stats, access to spells from 6 creatures, and is immune to effects like Stun and Frozen. The downside is that you only have one creature - so it's susceptible to debuffs and abilities that a full party might normally be fairly resilient toward.
Obviously, this particular ability might turn out to be pretty tough to balance, but I'm determined to make it work!